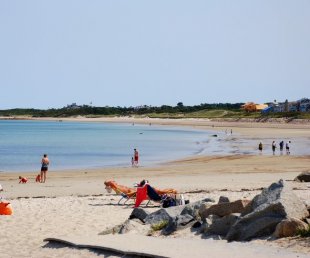 A few days before my girlfriend and I were headed to Dennis, MA on Cape Cod for a friend's wedding she began complaining about ear pain. That led to this discussion while we were watching Big Brother 13
Me: How can you watch television like that?
GF: What? I am flushing my ears. They hurt really bad if you want to know the truth.
Me: I always thought that you drained ear pain not add liquid into the situation.
GF: Fast Forward. Commercials. (Spends the rest of the night flushing both ears three times)
The car ride up to Cape Cod then became a lovely piece of performance art. Before turning up the volume on Howard 100 I took my time to gloat.
Me: "Who said flushing was a bad idea?"
GF: I split my fruit mentos with you!
When we finally reached our Cape Cod motel she was the one who went into the lobby/owner's living room to check us in. During our short commute to our room she gave me the really good news.
GF: So the owner's wife told me that there is a health clinic open next to the weight watchers she works at in Dennis. We called the place and they are open on saturday's from 9-1. So I think that is a good idea cause my ears are killing me.
That was the last good news to report about the motel. The room begged many questions. For instance who places red shag carpeting in a sea side motel? Is mildew a foreign concept this far east. The bathroom was also configured with a space shuttle level toilet. You had to sit on it sideways then swing both your legs under the piping above it. Just like the shuttle once you were locked into the seat any abort attempts could then take hours. The queen bed was outfitted with two pillows. One full of concrete, the other full of little pellets. I got concrete. I estimated I could create an exact replica of the room for $1,500. After a nice dinner at the near by seafood shack and a large amount of pinot grigio I was able to put both of us to bed.
Flash forward to 1:30 am.  I spent most of the night tossing and turning on my slate pillow so I wasn't shocked to see the GF having the same issues.  She was sitting up in the bed reading her phone when I asked if she was alright.
GF:  No, it really hurts.  And I found a place.
Me: The place next to weight watchers.  I know.
GF:  I mean this.
She then showed me the screen on her phone.  Hyannis Emergency Hospital.
GF: It's only 12 miles from here.
The Hyannis Hospital turned out to be just like any other medical facility you have been to.  I was worried it might be decorated in lobster traps and fishing nets with doctors named Sully.  We were placed on a stretcher that was placed around the center ring of the ER where the medical staff worked.
Nurse: On a scale of 1-10 what would you say the pain is at?
GF: 8…9…I mean it is making me cry.  Is that a 10?
The nurse then took out the standard ear tool thingy with the long rubber nose and the light.  After 5 seconds she holstered the thingy and had her diagnosis.  She announced the following at a level easily loud enough for everyone in the ER to hear.
Nurse: Look's like a standard case of Swimmer's Ear.  Be right back.
Me: (whispering) Couldn't she have said Ear Infection? Swimmer's Ear makes it sound like I just picked you up from sleep away camp.
GF: I just need drops asap.  (clutching her ears)
The nurse arrived a few minutes later with good and bad news. The good was two vicodin she popped from silver foil.  The bad was the only drops she was getting were from a pharmacy.  So our adventure continued as we then began our search for a 24/7 pharmacy on Cape Cod.  We first asked the nurse helping us.
Nurse:  Oh sure no problem dear.  You take your fourth left out of the hospital.  You then go about two miles to main st. until you see a stop sign.  Take a right there, and then you are looking for the CVS on your left.
Twenty minutes later we ended up at the Cape Cod Mall.  There was not one car in the parking lot, and the CVS was locked up snug a tight.  We then switched to following the maps in our iPhones.  This resulted in us driving past the Hyannis Airport three times before finding the right location.  At last though we arrived to a proper 24/7 CVS.  We swung into the drive thru and were greeted by a John Goodman-esque pharmacist.  Finally we had the right place.  The pharmacist took our paper work and closed the window.  He returned with a smile and some advice.
Pharmy: See the thing is each CVS in the state has their computers rebooting at 3am each day.
The dashboard clock read 3:15
Pharmy:  So you can wait here for another thirty minutes or so or I can reccomend a closer location.  Where you from.
Me: Uh, Brooklyn, Florida originally.
Pharmy: I mean here-a
Me: Oh, yeah sorry, Dennis.
Pharmy: Oh Dennis, well we got a store in South Yarrrrrr-mouth.
Me: South Yarmoth?
Pharmy: Oh yeah, that way by the time you get there the computers will most certainly be up and working, and the store is closer to Dennis.
Me: Ok, well that sounds like a plan then.  Can you give us directions for it?
This is when the night swerved into territory I had only witnessed before in the SNL sketch "What's the Best Way."  I thought it was called "You can't get there from here", but the gist is the same.
Pharmy:  Sure fella.  You know where the Pancake House is right?  So you just go there and take a left there…
Me:  Did you say the Pancake House?
Pharmy: Exactly
Me: We actually don't know where that is.
Pharmy: Really?  Well everyone knows the Pancake House.  Just an assumption from how crowded their sunday brunches are. You really don't know it?  Red awnings.
Me: No
Pharmy: (slow exhale) Well then its harda to direct ya
I then asked for the address of the store.  He looked at me like I had just punched his dog and went to retrieve the number.  We found the second CVS well enough, and were waiting for the scripts to be filled when I noticed the GF nodding off like Bubbs on the Wire.
Me: Listen I know you are feeling the pills right now, but I need your help directing me back to the motel.
GF: (wiping face) No, I am fine.  Really I am good.  (Head rests on window)
3:50 am we left CVS with drips, steroids, and memories.  5 minutes later we were back on the main drag close to our motel. GF was slumped the seat next to me, but I had to wake her up for an urgent message.
Me:  Honey, (shaking her shoulder) it's the fucking Pancake House!